A.J. Drexel Nanomaterials Institute, Materials Science and Engineering Department, Drexel University, Philadelphia, USA
http://nano.materials.drexel.edu, gogotsi@drexel.edu
Electronic textiles, also known as e-textiles or garment devices [1] have found a variety of applications in the military and medicine as wearable sensors to monitor soldier or patient vitals, as well as in athletic garments to give real-time feedback to athletes on their performance. However, many of these garments require a power source, such as a battery, but have thus far only integrated conventional coin cell or pouch cell batteries into the fabric.
This seminar provides an overview of the advances made in the field of wearable energy storage, specifically pertaining to batteries or electrochemical capacitors made as fabrics and yarns. A concept garment incorporating energy storing components can be seen in Figure 1.
The field can be categorized into three main thrusts: (1) coated textile energy storage, (2) fiber or yarn energy storage, (3) custom textile structures that incorporate energy storage. Each approach has its advantages, where coating pre-existing textiles with energy storing materials means pre-made garments can be outfitted with new technology. Fibers and yarns that can act as energy storage devices can be woven, knitted or stitched into full fabrics, meaning they have the potential to be embedded into many different kinds of garments. Lastly, custom designing knitted structures that incorporate all the components of energy storage devices give engineers the advantage to design fabrics with specified power and energy densities. Thispaper also explores systems that combine capacitive touch sensors and energy storage.
Fig. 1. Design concept for an all knitted smart garment containing a. piezoelectric (energy harvesting) patch at the joint of the knees, b. a textile antenna for communication, c. electrochemical energy storage for powering the entire garment, and d. integrated knitted conductive leads to connect all components. [2]
REFERENCES
1. G. Dion, Garment Device: challenges to fabrication of wearable electronics, Proceedings of the 8th International Conference on Body Area Networks, (2013) 97-102.
2. K. Jost, G. Dion, Y. Gogotsi, "Textile Energy Storage in Perspective," Journal of Materials Chemistry A, Vol. 2 (2014) 10776 -10787.
3. K. Jost, G. Dion, Y. Gogotsi, Garment Devices:Integrating energy storage into textiles, Chapter 24 in Fundamentals ofWearable Computers and Augmented Reality, edited by W. Barfield, 2nd ed., CRC Press, (2015) 639-660.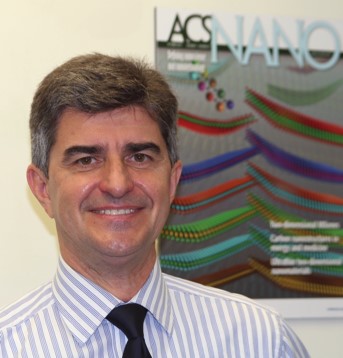 YuryGogotsi is Distinguished University Professor and Trustee Chair of Materials Science and Engineering at Drexel University in Philadelphia, USA. He is the founding Director of the A.J. Drexel Nanomaterials Institute and Associate Editor of ACS Nano. He works on nanostructured carbons and two-dimensional carbides for energy related and biomedical applications. He has co-authored 2 books, more than 400 journal papers and obtained more than 50 patents. He has received numerous national and international awards for his research. He has also been recognized as Highly Cited Researcher by Thomson-Reuters in 2014 and 2015, and elected as a Fellow of AAAS, MRS, RSC, ECS and ACS, and a member of the World Academy of Ceramics.