Xinliang Feng
Department of Chemistry and Food Chemistry&Center for Advancing Electronics Dresden(CFAED), TechnischeUniversität Dresden, 01062 Dresden, Germany
E-mail: xinliang.feng@tu-dresden.de
Enormous research suggests a bright future of the graphene market. However, for a long time there has been a huge gap between laboratory-scale research and commercial application due to the challenging task of reproducible bulk production of high-quality graphene at low cost. Electrochemical exfoliation of graphite has emerged as a promising wet-chemical method with advantages such as up-scalability, solution processability and eco-friendliness. In this lecture, we will discuss the recent progress in electrochemical exfoliation of graphite and prospects for the application of exfoliated graphene, particularly in the fields of flexibleelectronics and energy technologies.
References
[1]ACS Nano. 2013, 7, 3598;J. Am. Chem. Soc.2014, 136, 6083; J. Am. Chem. Soc.2015, 137, 5576; Adv. Mater.2015, 27, 669;
[2]Adv. Mater, 2015, 27, 4054; Nature Comm. 2015, 6, 8817; J. Am. Chem. Soc.2015, 137, 13927; Adv. Mater. 2016, 28, 2217;
[3]Adv. Mater.2016, 28, 6213; Energy.Enviro.Sci.2016, 9, 478; Adv. Energy.Mater.2016, in press.
Biography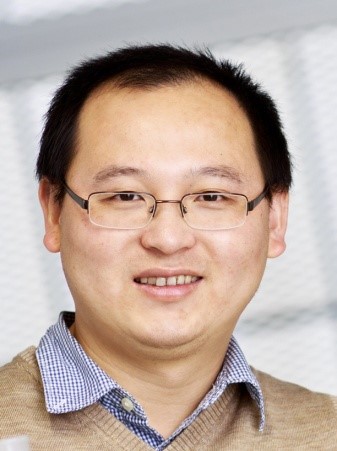 Xinliang Feng is a full professor at Technical University of Dresden. He received his Bachelor's degree in analytic chemistry in 2001 and Master's degree in organic chemistry in 2004. Then he joined Prof. Klaus Müllen's group at the Max Planck Institute for Polymer Research for PhD thesis, where he obtained his PhD degree in April 2008. Since December 2007, he was appointed as a group leader at the Max-Planck Institute for Polymer Research, and since 2012, he became a distinguished group leader at the Max-Planck Institute for Polymer Research. Since 2011, he was appointed as an adjunct distinguished professor at the Shanghai Jiao Tong University and as the director for the Institute of Advanced Organic Materials.
His current scientific interests include graphene, synthetic two-dimensional materials, organic conjugated materials, and carbon-rich molecules and materials for electronic and energy-related applications. He has published more than 310 research articles which have attracted more than 17000 citations with H-index of 65.
He has been awarded several prestigious prizes such as IUPAC Prize for Young Chemists (2009), Finalist of 3rd European Young Chemist Award, European Research Council (ERC) Starting Grant Award (2012), Journal of Materials Chemistry Lectureship Award (2013), ChemComm Emerging Investigator Lectureship (2014), Highly Cited Researcher (Thomson Reuters, 2014-2016), Fellow of the Royal Society of Chemistry (FRSC, 2014). He is the head of ESF group "Graphene Center Dresden". He is an Advisory Board Member for Advanced Materials, Journal of Materials Chemistry A, Chemistry -An Asian Journal, ChemNanoMater, Energy Storage Materials, etc. He is also one of the Working Package Leaders for European commission's pilot project Graphene Flagship.