Gaoquan Shi,*Xiaowen Yu and Shan Chen, Miao Zhang
Department of Chemistry, Tsinghua University, Beijing 100084, China
In this talk, we describe the controlled synthesis of congugated polymers and chemically modified graphene for the applications in energy systems. The examples include the catalysts for dye sensitized solar cells and water splitting, electrodes for potodetectors and supercapacitors and lithium-sulfur batteries. Particulatrly, ultrafast supercapacitors have been fabricated by using microporous films of graphene and PEDOT, and they showed high specific capacitances, excellent electrochemical stability and ultrafast rate-performances, promising for AC-line filtering. The graphene, PEDOT and their composite-based catalysts showed great potenticals for electrocatalyzing oxygen evoluation, hydrogen evoluation and I2/I3- redox reactions.
References
[1] Q. Zhou, et al. Conducting Polymer-Based Catalysts. J. Am. Chem. Soc., 2016, 138, 2868.
[2] J. Chen, et al. Size Fractionation of Graphene Oxide Sheets via Filtration through Track-Etched Membranes. Adv. Mater.2015, 27, 3654.
[3] B. Yao, et al. Base-Induced Liquid Crystals of Graphene Oxide for Preparing Elastic Graphene Foams with Long-Range Ordered Microstructures. Adv. Mater., 2016, 28, 1623.
[4] M. Zhang, et al. Multifunctional Pristine Chemically Modified Graphene Films as Strong as Stainless Steel. Adv. Mater. 2015, 27, 6708.
[5] M. Zhang, et al. An ultrahigh-rate electrochemical capacitor based on solution-processed highly conductive PEDOT:PSS films for AC line-filtering. Energy Environ. Sci. 2016, 9, 2005..
Biography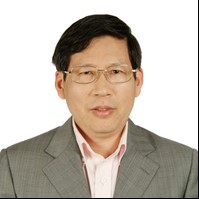 Prof. Shi obtained his Ph D. in 1992 at Nanjing University (China). In 1992, he joined the Department of Chemistry, Nanjing University, and promoted to professor in 1995. In 2000, he moved to Tsinghua University as a professor in the Department of Chemistry. His research interests are conducting polymers and graphene materials. He received the 2nd grade award of Natural Science of China and the youth knowledge innovation prize of Chinese Chemical Society and BASF Company. The 1st grade award of natural science of Chinese Education Minstry in 2013. Research interests: The controlled sunthesis and applications of conducting polymers and chemically modified graphene. Pulished 300 SCI papers with a total citation over 20,000 times, h-index is 64.